Happy Birthday, Dr. Egas Moniz - Creator of the Cerebral Angiography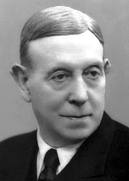 Dr Moniz, Photo c/o NobelPrize.org
A little history of a man with a big vision:
Dr Moniz, a neurologist from Portugal, developed the cerebral angiography, the test that uses x-rays together with a contrast dye to observe blood flow in the veins and arteries in and around the brain. He did this in 1927-1928! It was this approach that allowed doctors to detect abnormalities like never before, and the technique is still used today. Many consider it the "gold standard" for diagnosis of cerebral vascular disease and assessment of "collateral" circulation. The test is invasive, especially compared to MRI/MRA and some other diagnostic tests that have since been developed. But for some of us, including yours truly, it turns out to be the test - the only test - that determines the underlying cause of pulsatile tinnitus.*
If he were alive, Dr Moniz would be 138 years old on November 29, 2012. His full name was Antonio Caetano de Abreu Freire Egas Moniz and he was a pioneer. 1927 was a good year for pioneers... that was the same year that the first transatlantic phone call was made via radio, and the year Charles Lindbergh made the first solo nonstop transatlantic flight from New York City to Paris. So I suppose it shouldn't be a huge surprise that another man decided to develop a method to view blood vessels inside and around the brain(!).
I've been a bit fascinated by Dr Moniz and his pioneering spirit. I mean, not everyone wakes up with a new idea to visualize blood flow in the head. And that wasn't even his only achievement. He won the Nobel Prize in Physiology or Medicine in 1949, not for the cerebral angiography, but for development of frontal lobotomy. He also wrote scores of medical papers, was a professor of neurology and even became a politician in Portugal.
Like many pioneers, he died well before the full benefit of his research and work would be apparent to the medical profession; it's still being realized. The technique, now more advanced and improved with the help of technology, is still used today as a diagnostic tool, an interventional procedure and as a guide in surgical procedures that involve the brain.
Dr Moniz died on December 13, 1955, at the age of 81.
Many doctors have written about his work and have used the procedure to help their own patients. Indeed many patients have been helped -lives saved- as a direct result of his vision and the professional and personal risks he took to achieve it. We often discuss here how patients have to be their own best advocates, but just as important are the doctors who are so dedicated to their profession and skilled that they think beyond the present, the norm and themselves.
For an excellent (and daunting!) overview of Dr Moniz and his quest to develop the cerebral angiography procedure, click and download this file. It's worth reading!
I'm glad you were born, Dr Moniz!
-WhooshEr
*The cerebral angiography is an invasive test. Discuss the benefits and risks with your doctor.
Wed, November 28, 2012 | link
Cured Whoosher: Aneurysm of Transverse Sigmoid Sinus Cured via Endovascular Procedure
A recent report written by a group of doctors in Paris, France describes a 28-year-old woman with "disabling pulsatile tinnitus." The cause - aneurysm of the transverse sigmoid sinus - was identified on a CTA, a non-invasive test. She had an endovascular procedure and her pulsatile tinnitus was cured. No more whooshing! There aren't may details in the abstract, but ask your doctor to look for the report in its entirety.
According to another report written just 12 years ago, this cause and treatment was considered "newly discovered." One of the doctors who wrote the 2000 report also participated in the most recent report.
We've highlighted several other reports on this cause and treatment. Since at least one of the doctors who wrote the recent report has written on at least one similar case in the past, I'd be interested to know whether this hospital has followed previous patients who have been treated to report any positive and/or negative effects of the coiling solution. It would be interesting for patients (and, obviously, their doctors) considering this treatment today to know, from the patients' perspective, how they're doing now.
This report published in 2010 (not that long ago!) out of Houston, Texas discussed another case of the same cause and treatment (successful, too!). It discussed that, "To our knowledge, eight of such cases have been published, five of which were treated surgically and three by endovascular approach. We describe one additional case treated successfully by endovascular coiling and review the current data on this subject."
So, it looks like yet another successful case of endovascular treatment of sigmoid sinus aneurysm can be added to the list. That's great news for this patient and Whooshers everywhere.
This new abstract (summary) will be added to the list of others on our Cured Whooshers page. Also, be sure to see and share with your doctors the previous posts about this cause, with links to additional case reports/abstracts here.
Many thanks to a fellow Whoosher on our Facebook group page for finding this report and letting me know about it!
"Pulsatile Tinnitus Caused by an Aneurysm of the Transverse-Sigmoid Sinus: A New Case Report and Review of Literature," Lenck S, Mosimann PJ, Labeyrie MA, Houdart E., Department of Neuroradiology, hôpital Lariboisière, 2, rue Ambroise-Paré, 75010 Paris, France, J Neuroradiol. 2012 Oct;39(4):276-9. doi: 10.1016/j.neurad.2012.02.001. Epub 2012 Sep 29.
"Aneurysm of a Dural Sigmoid Sinus: A novel Vascular Cause of Pulsatile Tinnitus," Houdart E, Chapot R, Merland JJ, Department of Neuroradiology and Therapeutic Angiography, Hôpital Lariboisière, Paris, France, Ann Neurol. 2000 Oct;48(4):669-71.
"Endovascular treatment of sigmoid sinus aneurysm presenting as devastating pulsatile tinnitus. A case report and review of literature." Mehanna R, Shaltoni H. Morsi H, Mawad M., Interv Neuroradiol. 2010 Dec;16(4):451-4. Epub 2010 Dec 17.
Sun, November 11, 2012 | link