Whooshers.com is a big supporter of all who raise awareness for intracranial hypertension (IH), a condition that impacts many, many whooshers and doesn't get enough attention. Since September is IH Awareness Month, let's chat a minute about IH, shall we?
According to the Intracranial Hypertension Research Foundation (IHRF), IH is the term for neurological disorders that result when cerebrospinal fluid (CSF) in the skull is too high. Whooshing is sometimes the first and sole symptom of IH. There are different types of IH: Acute/Chronic; Idiopathic/Secondary - and different people with even the very same diagnosis may experience IH very differently.
Like a lot of causes of pulsatile tinnitus (and not unlike the symptom itself), IH has a bit of a PR problem. Not enough people know much about it, and medical professionals aren't necessarily trained to detect its symptoms. It's one of those conditions that everyone has said for years is "rare," but really, it may just be "rarely diagnosed." To make it more confusing, IH has had a number of different names, including pseudotumor cerebri and benign intracranial hypertension.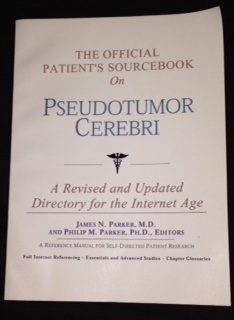 This book was purchased in 2003 - even its title is outdated now! More organizations and support groups have since been born and there are a lot of wonderful people raising awareness and support, for the condition and for the people enduring the symptoms and finding their way to and through treatment.
But there's a lot left to be learned and shared. We've heard from a number of whooshers who were diagnosed with IH, and while the term "cure" is unfortunately not a common one associated with IH - not yet - the good news is once identified it is possible to find support and treatment. We've posted quite a few Whoosher-IH stories, including this one. I encourage more IHers to share their stories with us.
If you don't know a lot about IH, one of the best things you can do is read about IH Myths. For example, did you know that IH impacts MEN as well as women? It's true. Did you know that you don't need to experience headaches or have vision problems to have IH? That's true, too. Very often, even if doctors are familiar with IH, a patient will fall between the cracks because the myths - oh, the myths - keep many patients from receiving a proper evaluation.
In its "Introduction," the (albeit outdated) book quotes Dr. C. Everett Koop, the former U.S. Surgeon General. He said, "The best prescription is knowledge." I couldn't agree more.
Learn more about IH! You'll be glad you did!