Announcing the UCSF Multidisciplinary Pulsatile Tinnitus Clinic!
GREAT news for the pulsatile tinnitus community!
University of California, San Francisco (UCSF) Medical Center has recently launched and opened the UCSF Multidisciplinary Pulsatile Tinnitus Clinic, focused on clinical care and research aimed at treating patients with pulsatile tinnitus.
Patients are encouraged to call 415-353-1863 to inquire about being seen in the Clinic.
Read about one of the Clinic's co-directors, Dr. Matthew Amans, HERE!
Sat, April 25, 2015 | link
Another Pulsatile Tinnitus Cause: Jugular Paraganglioma (JPG)
Lately I have heard from a number of people diagnosed with jugular paragangliomas, "JPG" (aka glomus jugulare, jugular foramen paraganglioma, temporal bone paraganglioma, glomus tumor). As listed on a number of medical sites, pulsatile tinnitus is a symptom of this condition. This site from Columbia University Medical Center describes some symptoms and (albeit brief) examples of proposed treatments.
[Note to Columbia University Medical Center: pulsatile tinnitus is NOT ringing in the ears!]
From the medical literature published recently, it appears that, perhaps like many other conditions, the discussion about proposed treatments for JPGs is evolving. The links below include recent abstracts of medical reports that discuss methods of management and treatment of JPGs. As with many other causes, many patients diagnosed with jugular paraganglioma are faced with a choice of treatment, and that choice can often be a very difficult one to make. There are a number of medical reports available online about the dilemma: surgery? radiotherapy? radiosurgery?
When you're a whoosher, a diagnosis of the underlying cause of our symptom is a big accomplishment. This is just one of many, many possible causes of pulsatile tinnitus. When the diagnosis is relatively rare, the suggested treatment may not be so straightforward. These patients need medical support - and emotional support - to help them make the best personal decision.
All of these abstracts are available online, with links to the full reports available from major medical publications. Share them with your doctors!
Sources:
"Contemporary Management of Jugular Paragangliomas," Wanna GB, Sweeney AD, Haynes DS, Carlson ML, Otolaryngol Clin North Am. 2015 Apr;48(2):331-341. doi: 10.1016/j.otc.2014.12.007.
"Observation and partial targeted surgery in the management of tympano-jugular paraganglioma: a contribution to the multioptional treatment," Mazzoni A, Zanoletti E. Eur Arch Otorhinolaryngol. 2015 Mar 31, Otolaryngology, University Hospital, Padua, Italy.
"Paragangliomas of the Head and Neck: A Pictorial Essay," Jerry C. Lee, MD, Ajay Malhotra, MD, Henry Wang, MD, PhD, Per-Lennart Westesson, MD, PhD, DDS, Division of Diagnostic and Interventional Neuroradiology Department of Imaging Sciences University of Rochester Medical Center, Rochester, New York, 2007.
"Evolving Concepts in the Management of Jugular Paraganglioma: A Comparison of Radiotherapy and Surgery in 88 Cases," Patrice Tran Ba Huy, M.D., Romain Kania, M.D., Michèle Duet, M.D., Bernadette Dessard-Diana, M.D., Jean-Jacques Mazeron, M.D., and Rania Benhamed, M.D., Skull Base. 2009 Jan; 19(1): 83–91.
Tue, March 31, 2015 | link
Another Cured Whoosher: Dural Venous Sinus Stenosis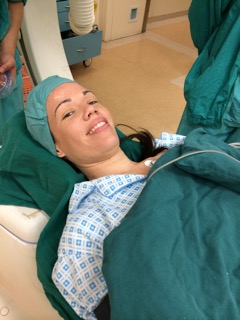 This story is written by a 33 year old Cured Whoosher from South America. I'll call her Alice. Long story short: After multiple dead ends and a diagnosis of Meniere's Disease, which didn't seem right to her, Alice read a medical report here on Whooshers.com about a cause her doctors had not considered. She noticed that her symptoms matched those of the patients in the story, and she contacted the doctors who wrote the report. As luck would have it, she had a trip already planned to China (!), where the doctors who wrote the report were based, so she stopped by for a visit. Her expectations were low, but the doctors in China diagnosed her with the same cause in their report and, after considering the proposed treatment, she was cured by the same procedure she had read had cured others. Now she's 6+ months whoosh-free. This is the power of sharing our stories and medical reports, people. Alice, thanks very much for sharing yours. Someone out there is reading this and will find relief because you did. Good for you for being your best advocate. Enjoy the silence! Your story has been added to our Cured Whooshers page!
In the middle of 2009, from one day to the next, I started hearing noise in my right ear. The best way to describe it: it was like hearing a my heartbeat through an echo machine constantly. My ear felt "full" and the noise would gradually get louder. I thought that I had some wax buildup so I put off going to the doctor for 2 months. When I started having problems to fall asleep because of the constant noise, I decided it was time to see my doctor.

My doctor checked my ear for wax buildup but found my ear to be clean. That's when I started to get a little worried. He sent me to an ENT doctor and after a sound test and some questions, I was diagnosed with Meniere's Disease, given some flyers with information and was told to learn to live with it. A few months passed and I was getting worse and worse - not the noise, but my ability to function as a mom, a wife and an employee. I would be locked away in my room because too much noise would irritate me and too much quietness would drive me nuts. I could only handle family time a few hours at a time and was very irritable. My husband, my daughter and my family tried to accommodate me as best as they could but it was putting such a damper on everything. After continued research on Meniere's Disease, I did not feel comfortable with that diagnosis because the sound I heard was constant and did not decrease at all. I also had headaches, nausea, dizziness, loss of hearing in my right ear, exhaustion and irritability. However, I did not feel that this was the disease itself but more a result of the lack of rest/sleep because of the constant noise.

One day, while sitting in my living room crying my eyes out because of the frustration, my husband tried to make me feel better by saying "put your ear on mine and let me check if I can hear it." I wanted to hit him over the head with a baseball bat but I thought better of it and put my ear next to his not expecting anything to happen. I was already at the phase where I started to believe it was all in my head. He was quiet for a few seconds and then started to make a same whooshing noise I was hearing. It was such an elation to know that I was not crazy and that someone else could validate this. We both cried afterwards and decided to get a second opinion.

In January 2012 we went to Duke University Medical in North Carolina. After a week of testing and an angiogram, I was told that I did not have Meniere's Disease but Objective Pulsatile Tinnitus. My pulsatile tinnitus was objective because when you put your ear against mine, you could actually hear it. None of the doctors had ever experienced the sound for themselves. They told me that there was nothing they could do for me, but at least I had a diagnosis. They advised me on some tinnitus medication, a hearing aid to help block the noise and a sleeping aid (Diazepam) to help me sleep at night. [Oops, pulsatile tinnitus is not tinnitus, doctors!!!]

I came back home and almost accepted my fate. I told my husband that I don't think I can continue doing the job that I am currently doing and love dearly for much longer and would much rather use the little energy that I have on my family.


In March 2014, while planning a business trip to China for April, I decided to do some research on anything new about my disease. I checked www.whooshers.com and found the article "Angioplasty and stenting for intractable pulsatile tinnitus caused by dural venous sinus stenosis: a case series report." With tears in my eyes I read the article four times to make sure that it really was describing what I have so exactly.

I wrote an email on April 9th to Dr. Li Baomin describing my situation, not really expecting a reply anytime soon but got one three days later. Dr. Li Baomin requested I do an MRV of the "sigmoid sinus and transverse sinus" and send him the images. On April 18, 2014, I received the best email of my life. It was just two sentences and it said, "I have seen your MRV, and I found a stenosis in your right venous sinus. I want to know whether your pulsatile tinnitus is in the right side. I can cure your [pulsatile] tinnitus if your [pulsatile] tinnitus is in the right side. Thank you for your trust." [NOTE TO DOCTOR - It's not TINNITUS! It's PULSATILE TINNITUS]

I could not believe what I was reading! I was so happy but also still a little nervous because it just sounded too good to be true. I had already planned a trip to China so I made arrangements to fly to Beijing and have an appointment with Dr. Li for April 28th. I stayed in a hotel that was a 10 minute walk to the hospital. Dr. Cao (Dr. Li's assistant) met me and brought me up to meet Dr. Li. The plan was just to meet with the doctor and if I felt comfortable enough, plan another trip later in the year to have a procedure done. The doctors sat with me for three hours to explain everything and answer the long! list of questions I had. I had brought a translator with me but that seemed to be unnecessary as we were able to communicate in decent English. They gave me the option to do the procedure during this trip or come back later, whatever I was comfortable with.

I went back to the hotel, discussed it with my family, and two days later I was admitted to the hospital. I was put through many different tests to check my health. They checked for tumors, blood clots and everything in between. I was put on blood thinners, and on May 12th I did the procedure which only took 2 hours. They had five specialists in the operating room with me, just in case there were any complications, which thank God there were none. I felt very safe and secure. The nursing staff was unbelievably caring, and my hospital room looked more like a hotel room. Even the hospital food was some of the best Chinese food I had ever had. My husband was allowed to sleep in my room with me and visiting hours were very flexible. I stayed in the hospital for 10 days after the procedure and was then allowed to fly back home. The hospital staff was very thorough and caring! All in all, an amazing experience considering the situation.


I am happy to say that I am now living without the pulsatile tinnitus for over six months. I feel amazing, I'm able to be the mom and wife I want to be and I am so happy that I won't have to stop doing something that I love!!

Thank you www.whooshers.com for posting the article!!! I don't want to think about how my life would be if I did not find this article.

p.s. I have added some pictures!

The first picture is the stenosis and the last picture is a stent to relieve the stenosis.

I hope that I can help someone with my story!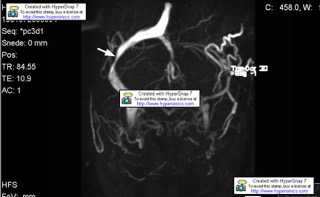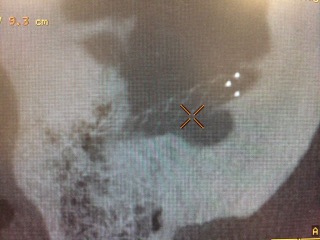 Fri, January 30, 2015 | link
Happy New Year!!
Here's to 2015, with hope for many more Cured Whooshers and increased awareness for pulsatile tinnitus!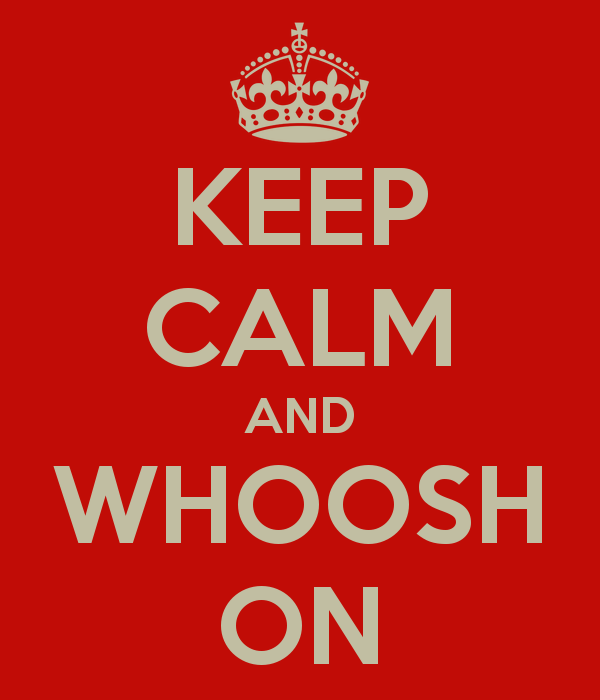 Wed, December 31, 2014 | link
Whooshers Give Thanks
In the spirit of the Thanksgiving holiday in the United States, a number of members of our community share their thanks. Below are just a handful, received via our active Facebook group page and via emails submitted to Whooshers.com. They're being posted anonymously to protect everyone's privacy, but their meanings are very personal.
On behalf of Whooshers everywhere, thank you to our families and friends for their support, to every effort to increase awareness for this unusual symptom, including our monthly Whoosher Wednesdays, and, of course, to the medical professionals devoted to evaluating pulsatile tinnitus, and isolating and treating its causes!
And a special thanks to each and every person who has shared his/her story of diagnosis and/or treatment, and to each person who has signed our petition for a diagnosis code!
HAPPY THANKSGIVING!
"I'm thankful that I have a fabulous family who was my support through my journey into discovering what I had in the first place (PT) and what is causing it (arachnoid granulations). My husband thoroughly supported me when I told him I needed to find out what the whoosh was all about; my mother came from out of state twice to watch my son so I could have a spinal tap and cerebral angiogram; my then eight year old son would give me hugs to let me know he wanted me to feel better. They can't understand what I go through on a daily basis but, through my tears I still shed on occasion, they continue to show their love for me, and for that, I'm thankful."

"I am thankful that I am healthy, despite the PT. I've had some pretty crazy tests, but they all show that my brain (and heart) are in great shape."

"I'm thankful for the continuing support of my family as I try to figure this whoosh and beyond out. I am especially thankful for my sweet boys who wish on stars that mommy's ear feels better. I am thankful to all of you who have provided me hope and a place to ask questions and not feel crazy."

"Thankful to be here with my family. Even the ringing and whooshing isn't going to spoil my Thanksgiving!"

" I am thankful that Emma started Whooshers.com and this Facebook page. It is wonderful to see and experience its positive impact. I am so grateful for Emma and all of the folks here that share their hopes and fears. I don't feel alone in this with all of you."

"I'm thankful the audiologist I saw for my whooshing 5 years ago encouraged me to seek additional input from an ENT. He did a CT and found metastatic thyroid cancer. My whooshing is unrelated and still present, but it is less bothersome, and the entire experience has been a MAJOR blessing in disguise."

"I am thankful for my family as they stand by my side in support and the doctors who try to figure out exactly which abnormality is causing me symptoms. Also thankful for the skilled surgeons that have seen me through surgery safely in their attempts to make my symptoms tolerable again."

"I'm just happy to have found that I'm not the only one lol. The Internet's literally what's going to be what saves us all in the end if we can keep it up long enough."

"I am thankful to other Whooshers for being here. Also I am thankful to my hearing therapist and most of all my wonderful family for being there for me. Thank you."

"After searching the Internet for endless hours typing in several words trying to construct them in a way Google would understand I finally found a website that I am ever so thankful for. I came across Whooshers!!! I had typed in "baby ultrasound noise in head, I hear a woosh noise, headache and woosh sound, pulsing sound and sore head." I was so happy I had called my noise a woosh and there was a website, be it I had spelled it differently, I had gone to my doctor months before and explained about my woosh. I am very grateful that I have a supporting husband. Without him I wouldn't like to imagine where I'd be at. I showed him the whooshers website and finally he understood what I was experiencing. Although I had told him I had noises in my head I don't think he actually fully knew the truth in what I was experiencing until he read some of the cured whooshers stories I showed him. I am thankful I am in a position where I can still have some quality of life. I do struggle but others are not so fortunate and are battling life limiting illnesses so I always think of others when I'm having a bad day."

"I am thankful for the support and help from this community. It's been a blessing to know there are other people out there with the same problem, to see people jump in with suggestions when someone posts, and to hear that some have found solutions!"

"I'm so thankful for you and this site and all of the connections I've made since ... for support of my family and my two lil girls and GOD whom with all of the struggles of daily life keeps me going! HAPPY thanksgiving! and HUGS to all of my dear whoosher family!"

"I am truly grateful for finding this site and knowing I am not alone. Happy Thanksgiving everyone!"

"Thank you, because of your website I was able to meet with a physician today who I believe will help me find answers. I have hope for the first time in years. Happy Thanksgiving!"
Wed, November 26, 2014 | link