Another Cured Whoosher: Brain Dural Arteriovenous Fistula (BDAVF)
The latest Cured Whoosher story from "Liz" is another inspiring (albeit frustrating!) tale of a patient who was told to "live with it," all while the evasive cause of her pulsatile tinnitus, brain dural arteriovenous fistula (BDAVF), could have caused a stroke, or worse. Her persistence was rewarded by answers and a procedure that cured her of the whoosh. Reading other whoosher stories helped her throughout the process, so she wanted to give back and tell her story so it, too, may help other whooshers.
This will be added to our Cured Whooshers page, where we keep links to similar stories of persistence and varying underlying causes. We actually have several other stories from whooshers diagnosed with BDAVF. Links to medical reports may be found there, too. So, doctors: read up!
Liz, good for you for being your best advocate! Enjoy the silence.
In January 2013, a couple days after a dental cleaning appointment, I started having a severe headache, jaw ache and whooshing in my left ear. It literally sounded like a 'whoosh, whoosh, whoosh' noise which was in time to my heartbeat. It continued 24/7 and kept getting worse. I had been suffering with cold and sinus issues for a couple of weeks, saw my primary physician and got antibiotics. Didn't get better. In February 2013, researching on the Internet brought me to Whooshers.com and that page (and the links) got me started thinking that with my symptoms that it might be pulsatile tinnitus. I read it might be related to high blood pressure, neck pain, Temporomandibular Joint Disorder (TMJ), all kinds of things. I had high blood pressure so I checked it but could find no correlation to the whooshing. My sleep was big time disrupted. Saw my dentist re TMJ. Saw an ENT specialist who said ears were clear but could be TMJ.

From the beginning, I was able to shut the whoosh off by pressing on the back of my head behind my left ear, but then my head would hurt. I had a physical and nothing showed up. I gave up Aleve. I tried heat, ice, neck exercises, relaxation imagery for TMJ, watched my posture, tried white noise to sleep, tried a cotton ball in my ear, limited my chewing of hard stuff, essential oils and tried massage... nothing worked or really helped for long.

In April of 2013, I met with a second ENT specialist who ordered a hearing test which showed no problems with hearing - a good thing but no answer for whooshing. He ordered an MRI to rule out a blood vessel tumor. This ENT had actually heard of pulsatile tinnitus (but not my primary or the first ENT). My MRI showed blood vessels all good but I was sent me to physical therapy for my TMJ which did help a bit in at least managing the neck and jaw pain. Apparently I carry a lot of tension in my neck and jaws.

The more I read on Whooshers.com the more nervous I became. I was then scheduled (per my ENT) for an ultrasound Doppler which also returned clear but found a thyroid nodule. Next up was a MRI/MRA/MRV, and I was hopeful because these were all terms I had read about. Meanwhile the whoosh continued 24/7 and drove me completely bonkers!

During one of my sleepless nights I had read it was possible to record my whoosh and I was able to do that (can't remember how but finally friends and family could hear what I had been hearing). I played the whoosh for the second ENT referral and he said could hear it a little on my recording.

[Listen to Liz's Whoosh on the Whooshers Sounds page]

I kept pushing my primary about further testing of my thyroid nodule because I read that too can cause pulsatile tinnitus... this whole thing was quite a frustrating process to this point. Through this whooshing noise, I kept getting sick with infections, low temperatures, extreme debilitating fatigue, just general feeling like crap all the time.

In January of this year (2014), The ENT found a neurosurgeon for me to talk to about my symptoms. I met him in February.

The neurosurgeon heard my whoosh (bruit) (woohoo), had heard of Whooshers.com, had heard of pulsatile tinnitus and he could actually feel it (trill). He had reviewed all my scans and said he was fairly sure it was a dural arteriovenous fistula but didn't think I needed to repeat all the scans, just do the gold standard test of angiogram. Did I mention when I finally saw the neurosurgeon's card it said "neurointerventionalist!!!! I knew from Whooshers.com that was the doctor that might be able to figure this out and he did!!!!!!! And he had heard the whoosh too...what a relief that was!!!

Backtracking a little, a few weeks prior to my procedure my head had begun to hurt a lot and every little tiny touch made my head hurt worse and worse. I was getting more worried and not sure what the heck was going on but was glad I already had an appointment scheduled.

On April 22, I had my diagnostic angiogram and after 4 plus hours, they were able to find and fix my fistula with an onyx embolization - YAHOO!!!! The neurosurgeons (I had two neurosurgeons work on me) said my situation was a textbook case for BDAVF. I spent the night in the hospital and woke up with NO whoosh!!!! From what I understood they had found a big mess of criss-crossed arteries and veins and blood flow starting to go backwards which was probably why I was feeling worse. If it hadn't been found and fixed it could have possibly led to a brain bleed or stroke.

I am soooo grateful to them and thankful and blessed to have no more whoosh. The relentless24/7 whoosh was rough and 'peace' can not be underestimated. I don't know how everyone can continue longer than I had but it was so helpful to read everyone's stories on here....a little scary to read sometimes but helpful overall :-))) and it was hard for me to do but you just have to keep pushing for answers. I wish nothing but cured whooshers for everyone on here.

Note: It's now almost 3 months after my procedure and I am still whoosh free. I was told I would lose my hair in that left back quadrant of my head and I did. Still waiting for it to grow back lol but that's a minor issue compared to what could have happened. I will have a follow-up angiogram in another 3 months just to make sure everything still okay.
For more information about brain dural arteriovenous fistula, see this link at neuroangio.org.
Sat, July 19, 2014 | link
Reports on Imaging and Diagnostic Evaluation: Possible Diagnosis in 57% of Pulsatile Tinnitus Cases
A recently published study that evaluated pulsatile tinnitus cases from 2002-2013, reports a comprehensive presentation of the complex nature of our cases and the tests that doctors should consider to investigate the underlying cause of pulsatile tinnitus.
Have you seen a doctor who has told you that you have to "live with" pulsatile tinnitus before ordering a series of diagnostic tests? Maybe it's time to show them these reports, written by their colleagues: doctors familiar with pulsatile tinnitus.
In pulsatile tinnitus cases, there are usually no easy answers, no specific "go-to" test that will rule everything out, no direct checklist of tests for "proper' evaluation.
Is it easy to determine the cause? Usually not. Should each PT patient learn to "live with it," as we're often told, before a single diagnostic test? Absolutely not.
As the report indicates, "The role of the radiologist is to identify all treatable causes of PT. It is
necessary to be aware of the pertinent imaging findings and potential
imaging pitfalls of the common etiologies of PT."
Another report, written a couple of years ago but similar in its recommendations for thorough evaluation and testing, states, "In patients with PT however, imaging may be positive in up to
57- 100 % of patients though about 20-30% of these patients have 'normal variants' of
controversial significance..."
The more medical professionals appreciate the complexities of our cases, the closer we all get to proper evaluation of the symptom. And in more and more cases, the closer we get to a diagnosis, treatment -- and silence!
Special thanks to the reader who gave me the heads up about these reports!
"Imaging in Pulsatile Tinnitus: Diagnostic Pearls and Potential
Pitfalls," B. S. Purohit, R. Hermans, K. Op de beeck; 1SINGAPORE/SG,
2Leuven/BE, European Society of Radiology, 2014.
"Imaging In Pulsatile Tinnitus : When Should It Ring A Bell?" G. Bathla1, V. Chong; 1singapore/SG, 2Singapore/SG, European Society of Radiology, 2012.
Sat, June 28, 2014 | link
Pulsatile Tinnitus and Fibromuscular Dysplasia (FMD): A Study
I was contacted by the FMDSA and doctors involved in a recent study that examined the relationship between Fibromuscular Dysplasia (FMD) and pulsatile tinnitus.
Below is an image capture of the chart that they've provided permission for me to reprint. For a link to the file in printable, .PDF form, look under "Resources" on the right-hand side of this page for the file, "Article: Unraveling Pulsatile Tinnitus in FMD; A Report of the United States Registry for Fibromuscular Dysplasia."
Full Source: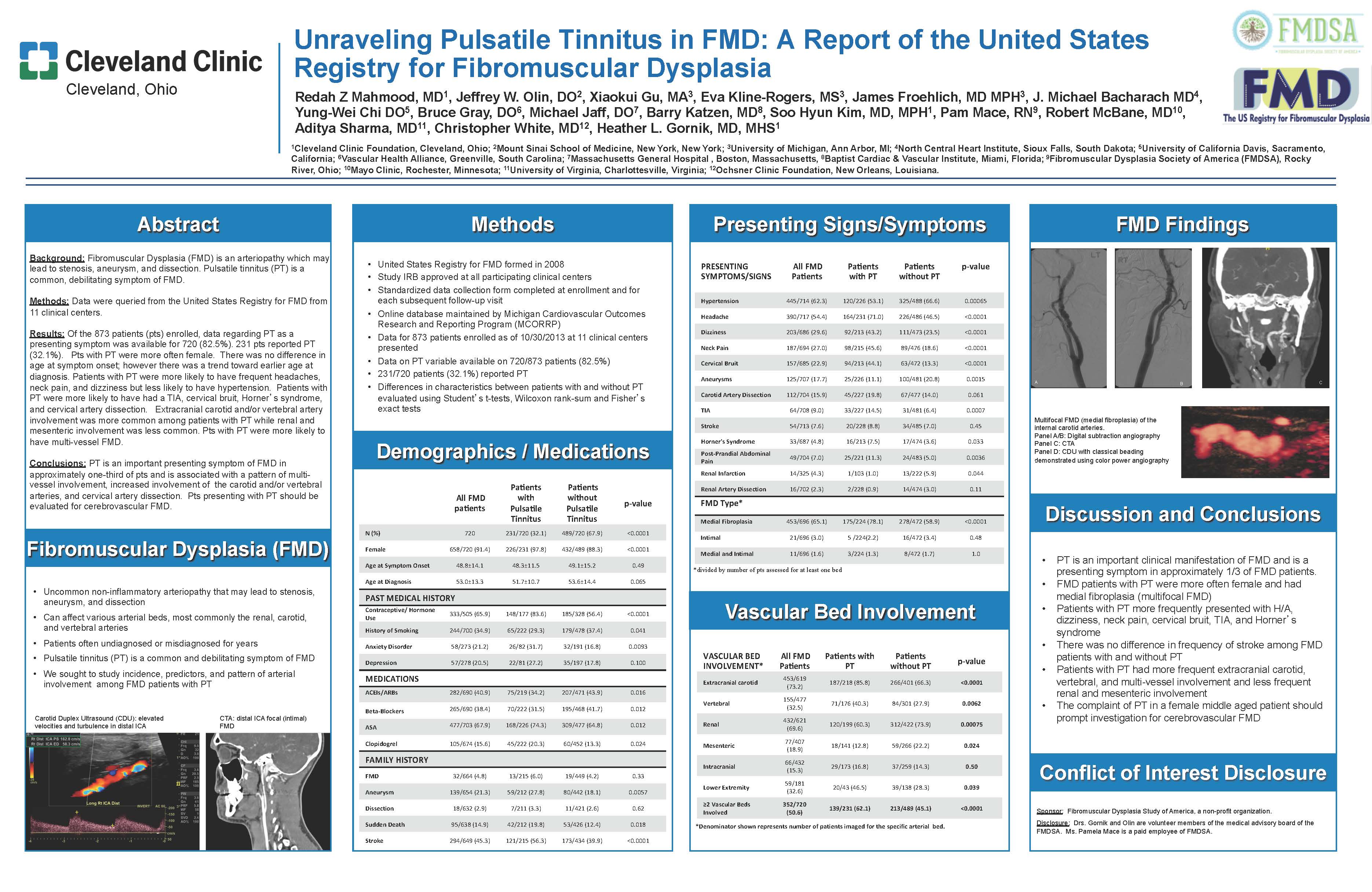 UPDATE: The Cleveland Clinic links to Whooshers.com as a resource for FMD patients and the medical professionals who treat them.
Sun, April 13, 2014 | link
46 Cured Whooshers: A Followup Report on Angioplasty and Stenting for Cases of Dural Venous Sinus Stenosis (DVS)
One of the best studies on pulsatile tinnitus. Ever. It's a recent followup (updated in February 2014) to report how dozens of whooshers are doing since undergoing treatment between 2009 and 2012.
In short, they're doing well! No more whooshing for all 46 of them!
Any patient with a diagnosis who faces proposed treatment, for anything really, should ask:
*How safe is the procedure?
*What are the chances that the procedure will work?
*What is the likelihood that the whooshing will come back later?
Due to the limited studies of pulsatile tinnitus over time, there's a lot we don't know - and can't know for sure. That is, until people who have had specific treatment for specific conditions are followed over a period of time.
This Chinese report is a followup to a series of procedures on 46 whooshers who were diagnosed with dural venous sinus stenosis. Each patient complained of "whooshing" (first time I've read that in a medical report!) and underwent an angioplasty or stenting procedure between 2009 and 2012. All but two had unilateral pulsatile tinnitus - pulsatile tinnitus on one side. The other two experienced pulsatile tinnitus on both sides. The results of the study, available in the public abstract, speak for themselves:
RESULTS: Pulsatile tinnitus disappeared immediately after the procedure in all 46 cases. There was no procedure-related complication. During the 2 to 36 months' follow-up, there was no recurrence.
Silence!
What's more, with time on its side, the study stresses some general facts, many of which people with pulsatile tinnitus no matter the cause already know: the symptom can be difficult to live with and have a significant negative impact on a person's life.
Have a doctor who doesn't hear you when you describe the difficulty you have dealing with it? Maybe that's reason enough to share this study with him or her.
The study goes on to give us an interesting history lesson. Did you know that...
... the concept of venous sinus stenosis was first suggested in 1977? Despite the frustration many of us have finding help, a lot has happened since then. Positive advancements in diagnosis and treatment.
... unlike other known causes of pulsatile tinnitus, listening to the whooshing with a stethoscope in cases of dural venous sinus stenosis is often not straightforward. Aha! Our community concurs. Many whooshers in our community with venous causes have indicated that some doctors can "find the spot" but that others have trouble
There are other neat tidbits:
*Pulsatile tinnitus can (and did in some of the study's patients) lead to depression an even suicidal thoughts.
*Treatment of pulsatile tinnitus depends on the identification of the underlying condition. There's no go-to test, to diagnose, no go-to drug, no go-to procedure.
*The study cautions against ligation of the jugular vein in cases of pulsatile tinnitus.
It really is a great report for our community. A description of successful treatments, proven successful even over time, that includes a historical, methodical analysis of the symptom while the person.
Is your doctor taking your case of puslatile tinntius seriously? If not, write down this citation and suggest that s/he has some reading to do.
Dural venus stenosis is just one possible cause of pulsatile tinnitus. For more causes see the Cured Whooshers page.
And if any of the Chinese doctors are reading this, please be in touch! Our community is grateful for your work.
Source: "Angioplasty and Stenting for Intractable Pulsatile Tinnitus Caused by Dural Venous Sinus Stenosis: A Case Series Report," Baomin L, Yongbing S, Xiangyu., Otology & Neurotology, Vol. 35, No. 2, 366-70, 2014.
Mon, March 17, 2014 | link
Internal Carotid Artery Aneurysm (ICA) and Another Cured Whoosher
If you experience pulsatile tinnitus and have a difficult time finding doctors to take your case seriously and not like a case of "regular" tinnitus for which there is no known cure, consider printing out this report.
Pulsatile tinnitus was the only symptom this patient suffered. She was put on hypertension medications for five years with no relief. No relief because the medications weren't addressing the problem. What the patient needed more than medications and crossed fingers was a thorough and proper evaluation of her symptom. The doctors who write this report found, upon such an evaluation, that the cause of her whoosh was an aneurysm of the internal carotid artery (ICA).
The test that detected this cause in this case was an MRI. Her CT scan of the temporal bone did not reveal it. An angiogram was used to further evaluate the problem once it was identified, and it was "successfully treated with an embolization procedure. Another cured whoosher!
Doctors in the piece do indicate that this cause is rare, but it is one of many possible causes that need to be considered. You don't have to experience pulsatile tinnitus and another symptom for something to be wrong. Pulsatile tinnitus - as many patients will tell anyone who listens - is enough. It's time more medical professional realize this.
This medical report will be added to our Cured Whooshers page, where the list of possible causes and successful treatments - and medical reports written by doctors that reiterate the significance of pulsatile tinnitus - gets longer and longer.
Source: Pulsatile Tinnitus as the Sole Manifestation of an Internal Carotid Artery Aneurysm Successfully Treated by Coil Embolization, Dong-Kee Kim, MD, Yong Sam Shin, MD, Jae Hong Lee, MD, and Shi-Nae Park, MD, Clin Exp Otorhinolaryngol. 2012 September; 5(3): 170–172. Published online 2012 August 27.
Sat, February 1, 2014 | link