UCSF Pulsatile Tinnitus Research Study Survey
If you are a whoosher over the age of 18, please complete THIS SURVEY put together by doctors at the UCSF Pulsatile Tinnitus Clinic. It only takes about 10 minutes!
From the survey page:
We are conducting this survey to better understand the impact that pulsatile tinnitus has on people's lives in terms of depression, anxiety, and function. We hope that this information will help guide us in terms of providing better care for our patients and raising awareness of pulsatile tinnitus as an illness.
Sat, December 3, 2016 | link
SleepPhones Holiday Sale!
Use code SILENTNIGHT for 25% off US orders of $50 or more. Includes free shipping. Using this link your order will provide a portion of proceeds to our Whooshers.com community! Good through Friday, December 2, 2016!
Sun, November 27, 2016 | link
Pulsatile Tinnitus Publicity: "A Quest to Explain the Whooshing in Her Head"
This story was also picked up by PBSNewsHour.
Great publicity for our community and for our new pulsatile tinnitus medical codes.
Sat, October 29, 2016 | link
Finally! Announcing the New, Official ICD-10-CM Pulsatile Tinnitus Diagnosis Codes!
Many of you signed our petition for a formal pulsatile tinnitus diagnosis code. Well, our community has been heard!
H93.A1 Pulsatile tinnitus, right ear
H93.A2 Pulsatile tinnitus, left ear
H93.A3 Pulsatile tinnitus, bilateral
H93.A9 Pulsatile tinnitus,unspecified ear
These codes go in effect October 1, 2016.
This is TRULY a fantastic development. So many of us have been assigned a "tinnitus" diagnosis code, when what we experience is not tinnitus at all. Pulsatile tinnitus is not tinnitus. This is an important, validating change, and, in some cases, it will be a life-saving change to the way our cases are documented. With a distinguishable code, more medical professionals will research OUR symptom, recognize the complexities unique to OUR cases, and know better than to tell us to "live with it" before ordering a thorough and appropriate medical evaluation.
For those keeping track, the codes are within Chapter 8 - Diseases of the ear and mastoid process. We know that the underlying causes of pulsatile tinnitus go beyond diseases of the ear, and, in fact, most causes do not have anything to do with the ear. However, I still think this is a positive development that will go to great strides to distinguish our cases from regular tinnitus cases, resulting in quicker and more appropriate evaluation.
Hooray for Whooshers everywhere! Make sure your doctors are aware of the new PULSATILE TINNITUS DIAGNOSIS CODES!
Sun, August 28, 2016 | link
A Diagnosis is Only Half the Battle
A story recently published by The Columbus Dispatch out of Columbus, Ohio, highlights a diagnosis and attempted treatment for pulsatile tinnitus. Unfortunately, the treatment was not successful, however the story accurately identifies her symptom as *pulsatile* tinnitus and describes the frustrating and, sadly, common quest many of us experience to achieve a diagnosis.
Her diagnosis, dural arteriovenous fistula (DAVF) is one we have seen before. It is an underlying cause that can be dangerous if left untreated. According to Johns Hopkins Medicine, DAVF is "an abnormal connection of vessels in the tissues around the brain or spinal cord in which one or more arteries are directly connected to one or more veins or venous spaces called sinuses." Also, see this page for more info written for patients' understanding.
There are numerous medical reports and personal stories about DAVF linked to on our Cured Whooshers page, including successful treatments.
This story is a reminder that each case is unique. Treatment can be complicated. A diagnosis is only one step toward silence.
Like many in our community, this patient was her best advocate and wouldn't take "live with it" for an answer. According to the story, she was seen by half a dozen specialists before her underlying cause was identified.
Our community, especially those of us diagnosed with DAVFs, wishes this patient the best during her recovery and her continued quest for silence! You're not alone!
As this story illustrates, it's a big accomplishment to find the underlying cause of pulsatile tinnitus, but it is only half the battle.
"Athens County woman undergoes surgery to stop hearing her heartbeat in her head," The Columbia Dispatch, Emily Tate, June 10, 2016.
Note: if you do not have a subscription to the site, access will only be allowed for limited clicks.
Sat, June 18, 2016 | link
Weill Cornell Medical College in New York Announces a New Clinical Trial for Pulsatile Tinnitus
The FDA and the Weill Cornell Institutional Review Board (IRB) have approved a new clinical trial for pulsatile tinnitus at Weill Cornell Medical College in New York City. The study will specifically address cases of stenosis (i.e. narrowing) of veins near the brain, most commonly the transverse and sigmoid sinuses.
Read more information about the new clinical trial here.
See additional info about the
"Venous Sinus Stenting to Treat Intractable Pulsatile Tinnitus Caused by Venous Sinus Stenosis"
study on www.clinicaltrials.gov.
And be sure to review (with your doctors!) the Cured Whooshers page for medical reports and personal stories related to venous sinus stenosis (see transverse sinus stenosis or sigmoid sinus stenosis).
Sat, May 14, 2016 | link
Prognostic Significance of Pulsatile Tinnitus in Cervical Artery Dissection (CeAD).
This is an interesting report involving an international Cervical Artery Dissection and Ischemic Stroke Patients (CADISP) study group.
Read the abstract here.
Authors: Kellert L, Kloss M, Pezzini A, Debette S, Leys D, Caso V, Thijs VN, Bersano A, Touzé E, Tatlisumak T, Traenka C, Lyrer PA, Engelter ST, Metso TM, Grond-Ginsbach C; Cervical Artery Dissection and Ischemic Stroke Patients (CADISP) study group. Eur J Neurol. 2016 Apr 27. doi: 10.1111/ene.13031.
Sat, April 30, 2016 | link
Support Pulsatile Tinnitus Research! The Otology Research Fund at the University of Maryland School of Medicine
For all of us who have been looking for pulsatile tinnitus research projects, I'm thrilled to announce that The Otology Research Fund, maintained by the the Department of Otorhinolaryngology - Head and Neck Surgery at the University of Maryland School of Medicine, is conducting - and looking for donations to support - research programs related specifically to pulsatile tinnitus.
If you are inclined to make a donation you should indicate PULSATILE TINNITUS on the donation page and 100% of your donation will go toward PT research.
From their site: "Ongoing clinical and translational studies for pulsatile tinnitus include research directed towards understanding sigmoid sinus wall anomalies, idiopathic intracranial hypertension, transverse sinus stenosis, and other venous causes of pulsatile tinnitus. These include developing models for reproduction and modulation of pulsatile tinnitus, radiographic imaging techniques, and surgical interventions."
The School is very familiar with our community and has been looking for ways to help us - this is a big step!
Join me in supporting them! Click here to learn more.

Thu, March 31, 2016 | link
Whooshers.com Mentioned in Good Housekeeping UK!
Thanks to our friends on the other side of the pond for this exposure to help increase pulsatile tinnitus awareness! The piece is in the Good Housekeeping UK Feb 2016 issue, in their "Look Younger, Live Younger" page.
To see the article in full, click on the Whooshers News & Press page and download the PDF.
My question is, Queen Elizabeth, are you reading Good Housekeeping UK?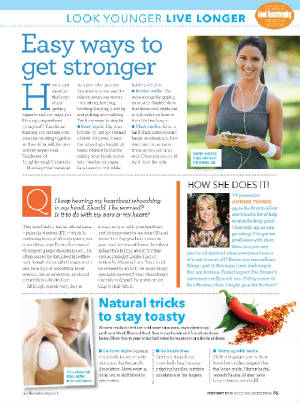 Republished with permission from Good Housekeeping UK
Sat, February 27, 2016 | link
WHOOSHERS Unite! (A Poetic Acronym)
By Sandra Lemon Simmons
Whenever it gets still and quiet
Hope drains that I'll find a peaceful rest
Obscured only slightly beneath my breathing
Oblivious to everyone else
Seeking ever constantly for some relief I wrestle
Hindered by too many interrupted thoughts
Every heartbeat in my chest reverberated like a mighty
River flowing. Leaves me lost.
So, I am a one amongst the many
Whooshers waiting, wondering bound to afflicted others by this shared malady
Misunderstood by most friends and loved ones and too often
Dismissed and misdiagnosed by many in medical communities.
Now as mis-education is finally being surmounted
Our combined voices lift high for singular recognition
Many have found cures from several varied diagnoses
Both surgical and medicinal relief from our shared PT condition.
We Whooshers welcome your candid input
Testimonies of each one's urgent plight
There is comfort in the sharing, for with each victory gained…
There is new hope for peaceful nights!
DivinelyDowanna!
August 6, 2013
12:37 p.m.
Sat, January 23, 2016 | link