2014.04.01 | 2014.03.01 | 2014.02.01 | 2013.12.01 | 2013.11.01 | 2013.10.01 | 2013.09.01 | 2013.08.01 | 2013.07.01 | 2013.05.01 | 2013.04.01 | 2013.03.01 | 2013.02.01 | 2013.01.01 | 2012.12.01 | 2012.11.01 | 2012.09.01 | 2012.08.01 | 2012.07.01 | 2012.06.01 | 2012.05.01 | 2012.04.01 | 2012.03.01 | 2012.02.01 | 2012.01.01 | 2011.12.01 | 2011.11.01 | 2011.10.01 | 2011.09.01 | 2011.08.01 | 2011.07.01 | 2011.06.01 | 2011.05.01 | 2011.04.01 | 2011.03.01 | 2011.02.01 | 2011.01.01 | 2010.12.01 | 2010.11.01 | 2010.10.01 | 2010.09.01 | 2010.08.01 | 2010.07.01 | 2010.06.01 | 2010.05.01 | 2010.04.01 | 2010.03.01 | 2010.02.01 | 2010.01.01 | 2009.12.01 | 2009.11.01 | 2009.10.01 | 2009.09.01 | 2009.08.01 | 2009.07.01 | 2009.06.01
Pulsatile Tinnitus and Fibromuscular Dysplasia (FMD): A Study
I was contacted by the FMDSA and doctors involved in a recent study that examined the relationship between Fibromuscular Dysplasia (FMD) and pulsatile tinnitus.
Below is an image capture of the chart that they've provided permission for me to reprint. For a link to the file in printable, .PDF form, look under "Resources" on the right-hand side of this page for the file, "Article: Unraveling Pulsatile Tinnitus in FMD; A Report of the United States Registry for Fibromuscular Dysplasia."
Full Source: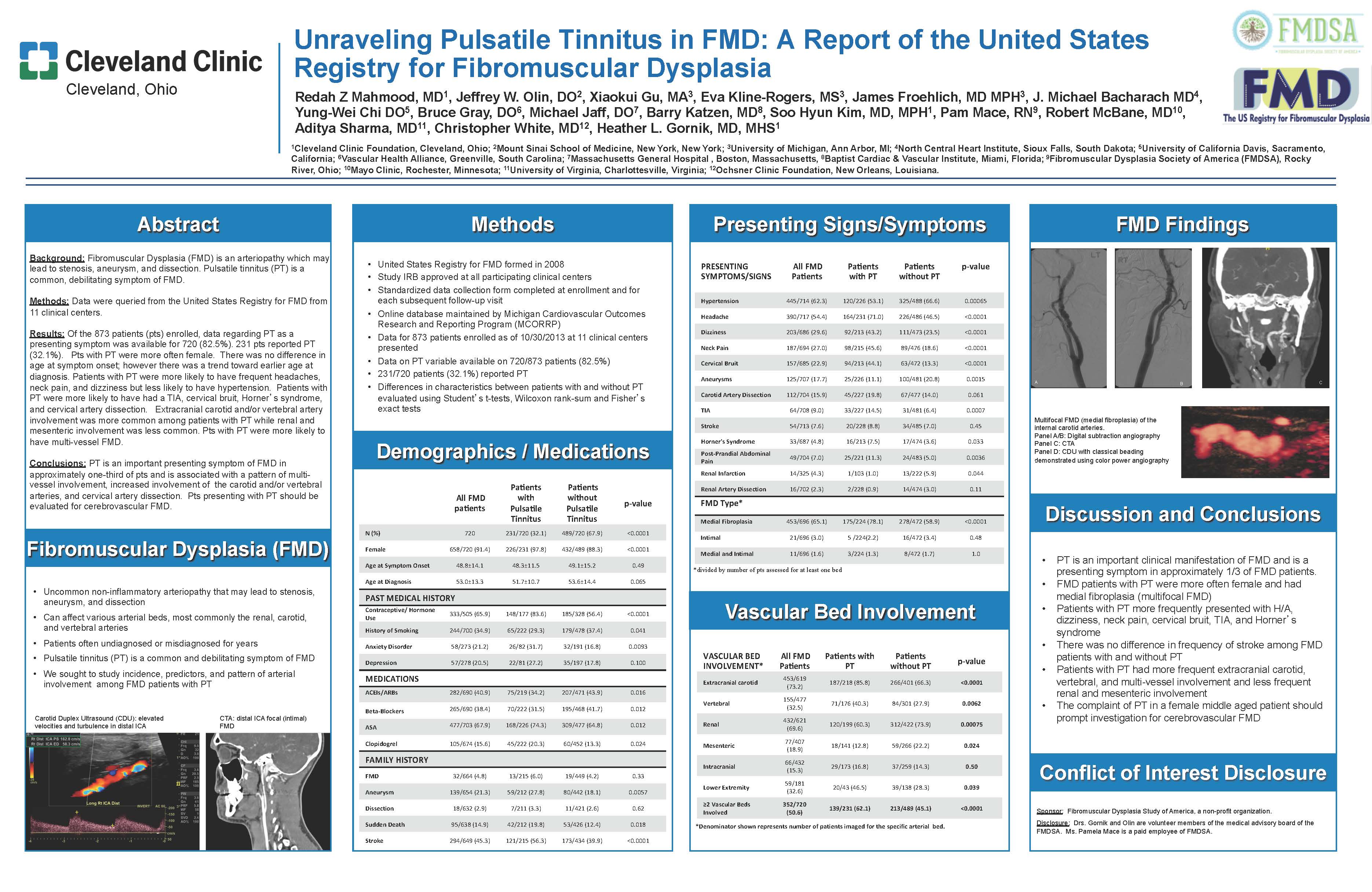 Sun, April 13, 2014 | link
46 Cured Whooshers: A Followup Report on Angioplasty and Stenting for Cases of Dural Venous Sinus Stenosis (DVS)
One of the best studies on pulsatile tinnitus. Ever. It's a recent followup (updated in February 2014) to report how dozens of whooshers are doing since undergoing treatment between 2009 and 2012.
In short, they're doing well! No more whooshing for all 46 of them!
Any patient with a diagnosis who faces proposed treatment, for anything really, should ask:
*How safe is the procedure?
*What are the chances that the procedure will work?
*What is the likelihood that the whooshing will come back later?
Due to the limited studies of pulsatile tinnitus over time, there's a lot we don't know - and can't know for sure. That is, until people who have had specific treatment for specific conditions are followed over a period of time.
This Chinese report is a followup to a series of procedures on 46 whooshers who were diagnosed with dural venous sinus stenosis. Each patient complained of "whooshing" (first time I've read that in a medical report!) and underwent an angioplasty or stenting procedure between 2009 and 2012. All but two had unilateral pulsatile tinnitus - pulsatile tinnitus on one side. The other two experienced pulsatile tinnitus on both sides. The results of the study, available in the public abstract, speak for themselves:
RESULTS: Pulsatile tinnitus disappeared immediately after the procedure in all 46 cases. There was no procedure-related complication. During the 2 to 36 months' follow-up, there was no recurrence.
Silence!
What's more, with time on its side, the study stresses some general facts, many of which people with pulsatile tinnitus no matter the cause already know: the symptom can be difficult to live with and have a significant negative impact on a person's life.
Have a doctor who doesn't hear you when you describe the difficulty you have dealing with it? Maybe that's reason enough to share this study with him or her.
The study goes on to give us an interesting history lesson. Did you know that...
... the concept of venous sinus stenosis was first suggested in 1977? Despite the frustration many of us have finding help, a lot has happened since then. Positive advancements in diagnosis and treatment.
... unlike other known causes of pulsatile tinnitus, listening to the whooshing with a stethoscope in cases of dural venous sinus stenosis is often not straightforward. Aha! Our community concurs. Many whooshers in our community with venous causes have indicated that some doctors can "find the spot" but that others have trouble
There are other neat tidbits:
*Pulsatile tinnitus can (and did in some of the study's patients) lead to depression an even suicidal thoughts.
*Treatment of pulsatile tinnitus depends on the identification of the underlying condition. There's no go-to test, to diagnose, no go-to drug, no go-to procedure.
*The study cautions against ligation of the jugular vein in cases of pulsatile tinnitus.
It really is a great report for our community. A description of successful treatments, proven successful even over time, that includes a historical, methodical analysis of the symptom while the person.
Is your doctor taking your case of puslatile tinntius seriously? If not, write down this citation and suggest that s/he has some reading to do.
Dural venus stenosis is just one possible cause of pulsatile tinnitus. For more causes see the Cured Whooshers page.
And if any of the Chinese doctors are reading this, please be in touch! Our community is grateful for your work.
Source: "Angioplasty and Stenting for Intractable Pulsatile Tinnitus Caused by Dural Venous Sinus Stenosis: A Case Series Report," Baomin L, Yongbing S, Xiangyu., Otology & Neurotology, Vol. 35, No. 2, 366-70, 2014.
Mon, March 17, 2014 | link
Internal Carotid Artery Aneurysm (ICA) and Another Cured Whoosher
If you experience pulsatile tinnitus and have a difficult time finding doctors to take your case seriously and not like a case of "regular" tinnitus for which there is no known cure, consider printing out this report.
Pulsatile tinnitus was the only symptom this patient suffered. She was put on hypertension medications for five years with no relief. No relief because the medications weren't addressing the problem. What the patient needed more than medications and crossed fingers was a thorough and proper evaluation of her symptom. The doctors who write this report found, upon such an evaluation, that the cause of her whoosh was an aneurysm of the internal carotid artery (ICA).
The test that detected this cause in this case was an MRI. Her CT scan of the temporal bone did not reveal it. An angiogram was used to further evaluate the problem once it was identified, and it was "successfully treated with an embolization procedure. Another cured whoosher!
Doctors in the piece do indicate that this cause is rare, but it is one of many possible causes that need to be considered. You don't have to experience pulsatile tinnitus and another symptom for something to be wrong. Pulsatile tinnitus - as many patients will tell anyone who listens - is enough. It's time more medical professional realize this.
This medical report will be added to our Cured Whooshers page, where the list of possible causes and successful treatments - and medical reports written by doctors that reiterate the significance of pulsatile tinnitus - gets longer and longer.
Source: Pulsatile Tinnitus as the Sole Manifestation of an Internal Carotid Artery Aneurysm Successfully Treated by Coil Embolization, Dong-Kee Kim, MD, Yong Sam Shin, MD, Jae Hong Lee, MD, and Shi-Nae Park, MD, Clin Exp Otorhinolaryngol. 2012 September; 5(3): 170–172. Published online 2012 August 27.
Sat, February 1, 2014 | link
Persistence and a Diagnosis: Fibromuscular Dysplasia (FMD)
There's no better way to finish off the year than a story about persistence that paid off. Here is a story submitted by Donna, the latest Whoosher who listened to her gut and to her whoosh.
As she writes, her story isn't over - this isn't a cured whoosher story. But it's inspirational nonetheless. Even those of us with different diagnoses can relate to many of the ups and downs she describes. Now Donna is on the path to proper treatment, which is a great thing.
For more information about Fibromuscular Dysplasia, see the FMDSA web site.
"I want to write this before the year is over in case it can help anyone out there that perhaps is experiencing anything similar to the frustration and helplessness I felt in dealing with this condition in my body. I apologize for the length of the story now, it was a long process, and I will try and keep it as brief as I can.

I am a 65 year old woman and consider myself a healthy, active 65. I eat mostly fresh food, exercise and have rarely been sick until this episode. My home has been on the Big Island of Hawaii for the past 30 years.

This all started in early November of 2012 when out of the blue I had a horrible toothache in the top back left side of my mouth. I had had that last tooth repaired some years ago and the dentist told me if it goes again it will have to be a root canal. I made a dental appointment only for them to say the tooth was fine and maybe I was grinding my teeth at night and it was affecting the nerves and they could do a tooth guard to the tune of $300-500. No thanks.

Revisited the dentist on the 17th of Nov. and she x-rayed my sinus and said the left side was cloudy and to go to my regular doctor which I did and he thought a sinus infection and gave me antibiotics. By the end of November I was experiencing a loud pulsation in my left ear, headaches on the left side especially an area above and to the left of my ear, extremely tight muscles around my ear in front, pressure inside my ear with popping and crackling noises on occasion, pain around my jaw, sinus, eye and face on the left side only, you could draw a line down the center of my head and everything on the left side was sore. I began experiencing migraine headaches often with visual lightning bolts before my eyes and was experiencing a definite increase in post-menopausal hot flashes. All my symptoms were worse when lying down, especially hearing the heartbeat in my head. Felt totally debilitated by everything.

In early December when I revisited the doctor complaining of all these symptoms, he gave me another round of antibiotics and recommended taking Allegra D and a nasal wash daily. I did that for a month to no avail. Each time he looked in my ear, he would comment on the fact that he was seeing a lot of fluid.

Dec. 2, 2012: 3rd day of antibiotics, had a terrible night, left ear was pounding, intense headache and was up at 1:30 and 3am, had to sit up and sleep and still had a headache this morning.

I had an eye check and was told all was okay. Returned to the dentist at the end of December and again they said it was not the tooth. Went to the other side of the island and saw the original dentist that fixed the tooth and he also said the tooth was fine and it was all caused by TMJ.

At the end of December I began to experience high blood pressure readings in the 180s/100s. My physician said they would just keep an eye on it as I never had BP problems before.

In January, I went back to my primary doctor and he recommended a third round of antibiotics which I refused as I felt the other two doses had little effect on what was happening. I was now having a very difficult time sleeping, the left side of my head between my ear and eye was consistently very tight with pressure and the pulsating heartbeat I heard in my head was very loud throughout the day and more intense at night. I had to continually say to the doctor that it was not tinnitus or ringing in the ear but a pulsation like my heart beat.

I would sit for hours with a hot compress on the side of my head for relief.

In February, I had the pressure in my eyes checked and the eye doctor recommended eye drops for the high pressure. I refused the recommendation as my regular doctor was on vacation and I felt that all that was going on in my head was involved and I did not want to add this to the mix.

I again returned to my primary physician in a frustrated state, at the end of my rope and weepy. He called in a prescription for the high blood pressure, ordered a cat scan of my sinus and gave me information to read about sinus infections and recommended I see the staff psychologist.

The scan came back with a polyp on the right sinus which he thought could be causing the problem and he would refer me to the ENT. Really??? I have had not one symptom on the right side but okay it will get me another doctor's opinion.

In the beginning of March the pulsation in my head seemed to get quieter….I referred to it as though it had moved to another room. By the end of March I was still awaking with headaches, could not lie comfortably on either side of my head without pain, discomfort, or loud pulsing noise. I would bunch pillows under my neck so I could lie down without my head touching the pillow. I also had begun to exercise on a daily basis on a treadmill at home. It seemed to make me feel better on the days I would exercise.

In April of 2013, I was at the point I didn't even want to talk about what was going on. I had never had anything serious regarding my health and considered myself a person with a healthy life and eating style. And I certainly had never experienced symptoms in my body for this long a period of time. I decided I would try acupuncture and see it I got some relief. In the meantime my regular doctor had agreed to a head scan and new blood pressure meds.

The acupuncture was very helpful in relaxing my body and helped me sleep better as I continued treatment throughout April.

The head scan came back normal.

At the end of May, I had the ENT appointment and before she even looked in my ear, her diagnosis of what was happening was all blood pressure related.

At this point I decided I was just grateful that it seemed to get better daily so rather than worry about it anymore I would just be grateful it is healing and go with that. In the meantime the pulsation sounds were fainter, and I was still feeling pressure and pain in my head.

June 1st found me on the mainland visiting my daughter. She wanted me to go to a doctor there and see what they said. Due to family circumstances, I did not see Dr. Kylstra until August of 2013. She was incredibly supportive and ordered an MRI of my head. The MRI came back no obvious problem but the radiologist noted fluid on the mastoid on the left side. I had talked to the doctor about referring me to a neurologist but after the MRI she was hesitant and wanted me to go back to an ENT. I was again feeling very discouraged when I left the office. My daughter was waiting for me in the car. She had searched on the Internet with fluid on the mastoid and palpitations. What came up was an article about brain fistulas and she was like, "Mom, this is exactly the symptoms you have been having this year." After reading the article, it was the first time I actually had a possible cause for all of this and I forwarded the article to Dr. Kylstra. She was again very receptive and agreed that it sounded similar to what I was experiencing. I made an appointment to see her and get a referral to the neurologist. The article also mentioned that if it was possibly a fistula that by putting the stethoscope over the mastoid, the doctor should be able to hear the palpitations and she was anxious to listen.

It was a wait until the end of September to see the neurologist and then was again disappointed to hear him say he does not even treat conditions such as this but he did have another patient with the exact same symptoms and hers was indeed a brain fistula. He then referred me to UCSF to see Dr. Van Halbach, a neurointerventional radiologist.

The end of September found me sleeping better and I could actually lie on the side of my head for short periods of time. I would still be awakened by head pain and pulsations sporadically during the night.

The day I was to visit Dr. Halbach, I had my doubts about following through now that I was feeling better in all departments. But I proceeded forward to possibly get some answers. From the time Dr. Halbach walked into the room, he was better than all my expectations. He was incredibly informative, humble and instilled confidence in his ability to find out what was going on in my head. I agreed to schedule the angiogram and his staff was very helpful and efficient in doing so for the next week. When Dr. Halbach left the examining room, I cried. Finally someone said it is not normal to hear your heartbeat in your head and understands what I have gone through for the past eleven months. The angiogram was scheduled for Oct. 3rd at UCSF.

The whole process was very strange but they couldn't have been more professional and kind at UCSF. It felt like I was submitting my body to some very strange science experiment.

I recall parts of the procedure and I remember Dr. Halbach telling me that it was not a brain fistula, not something he could fix and that it was fibromuscular dysplasia…the term would not stick in my brain, I had to ask several times that day. Since then I have learned so much about the disease thanks to the Society of Fibromuscular Dysplasia and their website, webchats and chat groups.

It took almost the whole month of October to recover from the angiogram as it seemed to make the palpitations at night worse, more intense headaches and fatigue.

The diagnosis came back with FMD in both carotid arteries, and several other arteries and a healed dissection in the vertebral artery on the left side. I believe that the past year was the healing process for the dissection.

This holiday season finds me very grateful for the health I am experiencing. I still have palpitations in my head and neck at night though much fainter and not all the time. I can actually sleep with my head touching the pillow though certain positions still cause discomfort and pulsatile tinnitus. I realize it is something I will have to monitor the rest of my life.

I am returning to the mainland to be evaluated for a possible angioplasty of my renal arteries in February.

In the meantime I am extremely grateful for knowing what is happening in my body and that what I was experiencing that whole year had some basis for it and it was not all in my head (though literally it was). I have learned much from the experience and know that if this should happen again, I would be much more of an advocate for myself this time around. I know my body better than anyone and if something this unusual is happening there is a reason and I would now demand further testing or another doctor's opinion.


My journey here is not over, I will follow my intuition in caring for myself and wish you all the best of health."

Mon, December 30, 2013 | link
A Pregnant Whoosher Diagnosed - Dural Arteriovenous Fistula (DAVF) of the Cavernous Sinus - UPDATE!
*See the update below from Hannah after her surgery*
I hear a lot from soon-to-be moms that start to whoosh and panic. For some of them, the whooshing goes away after childbirth and for some it does not. There are a lot of challenges for pregnant whooshers... you have to be more careful about everything, so sometimes diagnostic testing has to wait.
I received this story from a whoosher with a message to pregnant whooshers: listen to your whoosh and, most of all, yourself. After one doctor told her to "live with it" and gave her a prescription for nose spray, she took her case to a different doctor who recognized the significance of her pulsatile tinnitus and determined her whoosh was caused by a Dural Arteriovenous Fistula of the Cavernous Sinus. Guess what? NOT something you have to "live" with! In fact, something that warrants observation and treatment!
Although she isn't yet cured because she hasn't yet had treatment (she will undergo surgery next month, and she said she'd update us!), her story is already a success because she received a diagnosis and she continues to be her best advocate. Hannah, thanks so much for sharing your story, and good for you! I'm so happy that this site and all the stories helped you, and I am certain yours will do the same.
Here is Hannah's story:
I just wanted to say thank you for your Web site. Because so many people posted their story, I was able to recognize I was not alone, that something was in fact wrong when I began to have pulsatile tinnitus, and I stuck with it until I recently got a diagnosis - a DAVF of the cavernous sinus.

Here's my story:

I began hearing my heartbeat in my ear around my second trimester of pregnancy with my second child. I don't remember exactly when it started, but after dashing up the stairs one day I realized I could hear my heartbeat. At first I thought it was my son's, but then after I thought about it I realized that probably didn't make much sense and so I did what nobody likes to admit but everybody does, I Googled it.

Of course my Googling returned ominous stories, but I actually kind of dismissed them since pregnancy is a notorious time for weird blood flow issues, and pulsatile tinnitus didn't seem horribly uncommon for pregnant women to experience without a more serious diagnosis.

I assumed it would go away during pregnancy and didn't even mention it to my OBGYN until my six week postpartum visit, and he recommended I see an ENT, although he said one thing that set of alarm bells for me. He said, "It's not like you're going to have an aneurysm or anything." While he didn't realize it, it sounded prophetic to me, so I gulped and quietly scolded myself for not taking it more seriously or mentioning it sooner.

I was having intermittent headaches and it actually felt like I could hear the blood flow in my head occasionally change direction, so I decided I needed to go ahead and seek treatment to rule out anything serious.

The first ENT I saw told me I should learn to "live with it" and prescribed me Flonase. I didn't go back to him. I thought maybe I should give it more time, but then one night my husband laid his head over mine and he said "Holy crap! I hear it!"

He begged me not to let it go and insisted that anytime you can hear your blood flowing outside of your head it didn't seem good/healthy...and so the journey officially began.

I saw another ENT who thankfully recognized it as a vascular problem, and ordered an MRA. The MRA came back clear at first even to the trained eye, and so he thought we should try a few things first, although he told me that a cerebral angiogram is the gold standard for diagnosing these things.

Because I was breastfeeding I was reluctant to take medication unnecessarily, and so I went back and forth to appointments a few times until one weekend my head was hurting constantly and I was having stabbing pains. I went to the ER, and the doctor there was pretty dismissive. Exasperated I went back to the ENT and asked if we could pursue the angiogram. He agreed that may be the best route but wanted another set of eyes on my case. He sent me to a neuro-otologist at a renowned teaching hospital in my state,and that neuro-otologist told me he thought I only had a 5 % chance of having a fistula, but that it was probably best to be sure. He also reviewed my MRA and didn't see anything that concerned him.

FINALLY I arrived at a neurosurgery clinic after being referred for the angiogram by the neuro-otologist, and the neurosurgeon there explained why he agreed the angiogram was necessary to rule out a fistula, but also said he didn't think I had much of a reason to think it was one in the first place. Mmmhmm, I nodded. I already knew it was. I would have been completely happy to be wrong and have something less serious be going on, although it would have still been frustrating not to have a diagnosis. I felt relief to finally be getting my answer.

Before the appointment was over, the neurosurgeon did mention that could see something on my MRA that the other doctors missed, something called "time of flight" pictures that showed some abnormal blood flow around my cavernous sinus. He said "we're doing the right thing" and set up my angiogram.

The angiogram showed I did in fact, have a fistula...of the cavernous sinus. It was a grade 1 fistula but it also showed an abnormal, potentially unstable arterial branch that shouldn't even be there, so on December 10th, 2013 I am scheduled to have endovascular surgery to fix the abnormal branch and the fistula.

Without this website and the stories that went along with it I would have likely dismissed my symptoms! Because of the "sounds" section I was also able to figure out how to record my pulsatile tinnitus (bruit, really) and play it for my doctors. At that point I feel like they began to take me more seriously and have compassion for me and my symptoms.

I'm so thankful for everyone that shared their stories and wish everyone the best for a diagnosis, treatment, and full recovery! And pregnant mommas especially, don't do what I did and immediately dismiss your symptoms as pregnancy related. It's better to tell your doctor(s) and play it safe and take pulsatile tinnitus seriously!

Hannah
UPDATE (12/13/13):
Just wanted to let you know I had embolization surgery on Tuesday for the DAVF. It went well. The surgeon was able to get most of the fistula, but the artery feeding the fistula looked much worse than originally thought and had formed an aneurysm. He did obliterate all of that, thankfully, and feels that what is left from the fistula isn't likely to cause any trouble. He will reevaluate in 6 months to see if he feels another embolization is necessary. I don't hear the bruit anymore, mostly. I hear just the faintest sound if I cup my hand around my ear when I place my head on my pillow, but it doesn't interfere at all with even the quietest room which is a 99.9 % improvement from where I was. I'm incredibly grateful in the end for the pulsatile tinnitus which served as the giant warning that something was wrong, and don't regret for a minute relentlessly pursuing the diagnosis, even though I had to talk to a lot of people that didn't think anything was wrong. Thanks again for your site, you are doing great things bringing awareness to this important thing so many people suffer from!

Fri, November 8, 2013 | link



---
---