Dear Whooshers: Happy Halloween!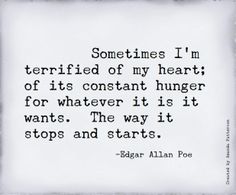 To read more on Edgar Allan Poe and my spooky theory that he may have been a Whoosher, click here!
Sat, October 25, 2014 | link
Another Cured Whoosher: Transverse Sinus Stenosis and Enlarged Arachnoid Granulation
Nothing makes me happier than to receive a personal story from another cured whoosher! I received this one recently from a woman whom I will call "Jill." Her story is yet another example that many pulsatile tinnitus patients face obstacles to proper evaluation and treatment. The writer is also very honest about the terrible - even suicidal - feelings that some of us experience as a result of this rare symptom. On the brightest note, Jill shares an example of how persistence really can pay off. Jill, good for you for being your best advocate! Your story will be posted along with many others on our Cured Whooshers page. Thank you for sharing your experience, take care of yourself during this recovery, and ENJOY the SILENCE!
For years, I've had this noise in my head. Loud. Whooshing. I heard a lot of doctors say, "Mm-hmm," when I told them I heard a whooshing in my ear. I was told I was anxious, depressed, and given Trazadone so I could sleep, told to see a therapist (which I did), etc.

I don't remember a time when I couldn't hear the whooshing, but in the last several years, it became unbearably loud or I became less able to withstand the relentlessness of it. The neurosurgeon doesn't think that I was born with it. I'm not sure. It took a long time (years) for me to believe myself - that this was a real problem that was causing me suffering. I'd say that overall, the most severe whooshing lasted for the last three years, but that's also when I began seeking a solution so I think that my resistance and strength were waning.

I told my husband that it sounded like a whooshing so he searched for that and found Whooshers.com. Knowing about the Whooshers.com site helped so much in my long search for a resolution.

The whooshing drove me to tears sometimes. And, it drove me to have what I would call suicidal thoughts. It was deeply painful and because I'm a mother and a teacher, I hesitate to write about this because of the effects that this knowledge could have on my daughter (now grown) and on the children I teach. I do think that the truth is healing and so, in writing about these thoughts, I hope that truth helps someone else. My whooshing was on the right side and was a 24/7/365 thing. Very loud. I teach kids so during the day, when I was busy or the kids were noisy, I was ok. I spent a lot of time at noisy places - restaurants, cafes, roaring rivers, you name it - wherever I could sit and focus on my work or have some relief. I could hear it in loud restaurants, but it was more bearable.

Once, during an evening crying jag, I asked my husband if he could hear it. He put his ear to my ear and he could hear it!

Objective Whooshing [Pulsatile] Tinnitus. I used these words when I talked to doctors and nurses and I didn't let them talk me out of it. I told every health care professional to put their ear to mine, but they wouldn't. They used stethoscopes. Most could not hear it using a stethoscope.

I talked to Dr. Halbach at UCSF in California who has had a great deal of success dealing with certain causes of whooshing. He talked me through some evaluative "tests" – does the whooshing ever stop? Does it stop when you push on your neck? Can you still hear it when you push on the vein behind your ear? He knew Dr. Warren at Oregon Health and Science University. I jumped the insurance hoops and got an exam with him. My goal at that exam was to get Dr. Warren to hear the whooshing. An intern came in first. The intern couldn't hear it. A doctor walked into the room and I told him about my goal. He put his stethoscope to my ear and pushed his chair back in awe of it. He heard it. He called other doctors in so they could hear it, too.

The ENT ordered CT and MRI scans. The MRI showed narrowing of the vein on my right side, but the cause was inconclusive so he refereed me to the neuroradiologist, Dr. Gary Nesbit. The angiogram didn't show anything new (or terrible – like aneurysm, etc.), but it confirmed that the original MRI picture held the most likely answer to the whooshing: arachnoid granulation extended on the right side against the transverse sinus. The neurosurgeon wouldn't go in without doing the angiogram because the MRI wasn't conclusive enough. It showed the narrowing, but it wasn't clear why there was narrowing. He wanted to rule out aneurism, fistula, etc.

I was elated to have a diagnosis and a solution. At first, I was worried about having an angiogram. My understanding was it was a risky procedure, but so was living with the whooshing due to the extreme stress of it and the horrible effect it had on my sleep. I hadn't slept well in years. Trazadone helped, but it wasn't a great solution. It was all worth the risk, but it was scary, too. I had the support of my husband and daughter. They pushed me through some of these procedures when I was ready to give up. Whooshing, lack of sleep, the relentlessness of it all wore me down in ways that are difficult to explain to someone unless they have experienced this or something else that is chronic.

The angiogram was not fun at all. It was harder than the MRI (for the MRI, ask for a mirror if you're claustrophobic and ask for music!). The angiogram is more invasive and strange things happen to the brain. You're awake for the procedure, and the doctor [usually] goes into your artery through your hip. For me it was really unpleasant, but I was on drugs that calmed me a bit. There were times when I saw lightning flashes and lots of color combinations and it was a lot like a Pink Floyd laser light show I once went to, and once, my brain felt like it was on fire. I looked at it as a psychedelic experience - one that I could have had if I'd ever done really hard drugs. But, again, it was worth it. It also had to be done. It wasn't a choice if I wanted to find a solution.

In the end, The amazing and wonderful staff at the Oregon Health and Sciences University performed an endovascular stenting and angioplasty of the right transverse sinus. I showed up at 5:30 a.m. and had my in-patient procedure. When I woke up, someone asked me how I was. I just smiled and kept smiling. I couldn't stop smiling, in fact. The sound was gone. I had silence. When my husband came into the ICU, I had him listen and he couldn't hear the whooshing. He cried happy tears along with me. I recovered in the ICU at OHSU and the people there were fantastic. I was released the next day after I slept (not perfectly because sleeping in the ICU isn't easy, but I slept better than I had in years).

There were surgeons on the team who didn't understand why we were doing all of this – it's only noise after all, they said. They are the ones who need to hear the whooshing. If we can get doctors to listen with their ears rather than stethoscopes, they will hear it. Until that happens, let them know that some doctors can hear it and some can't. Make it a competition! Doctors thrive on that. Make doctors hear your whooshing if at all possible.

I have no more whooshing. I'm so happy and relieved. I don't like taking the blood thinners - Plavix and aspirin, but I will have to take the Plavix for six months. Blood thinners are very important for this phase of my recovery, I am told. I don't like the bruising and the difficulty of healing from small cuts, but it's all a very small price to pay for such a great reward. The puncture site at my hip took a little bit of healing, but it has completely healed - it's been 3 weeks now. I have had tiny headaches from time to time and I never suffered from them before. Again, small price to pay for such glorious silence. I'm really looking forward to decades (hopefully) of life as a cured whoosher. I sleep!

I wish all good things for other whooshers. Don't give up.
Sat, October 4, 2014 | link
If It's September, It's Intracranial Hypertension (IH) Awareness Month!
Whooshers.com is a big supporter of all who raise awareness for intracranial hypertension (IH), a condition that impacts many, many whooshers and doesn't get enough attention. Since September is IH Awareness Month, let's chat a minute about IH, shall we?
According to the Intracranial Hypertension Research Foundation (IHRF), IH is the term for neurological disorders that result when cerebrospinal fluid (CSF) in the skull is too high. Whooshing is sometimes the first and sole symptom of IH. There are different types of IH: Acute/Chronic; Idiopathic/Secondary - and different people with even the very same diagnosis may experience IH very differently.
Like a lot of causes of pulsatile tinnitus (and not unlike the symptom itself), IH has a bit of a PR problem. Not enough people know much about it, and medical professionals aren't necessarily trained to detect its symptoms. It's one of those conditions that everyone has said for years is "rare," but really, it may just be "rarely diagnosed." To make it more confusing, IH has had a number of different names, including pseudotumor cerebri and benign intracranial hypertension.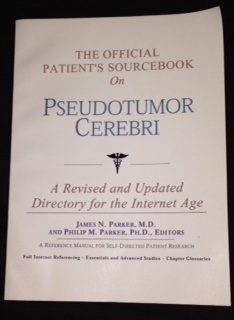 This book was purchased in 2003 - even its title is outdated now! More organizations and support groups have since been born and there are a lot of wonderful people raising awareness and support, for the condition and for the people enduring the symptoms and finding their way to and through treatment.
But there's a lot left to be learned and shared. We've heard from a number of whooshers who were diagnosed with IH, and while the term "cure" is unfortunately not a common one associated with IH - not yet - the good news is once identified it is possible to find support and treatment. We've posted quite a few Whoosher-IH stories, including this one. I encourage more IHers to share their stories with us.
If you don't know a lot about IH, one of the best things you can do is read about IH Myths. For example, did you know that IH impacts MEN as well as women? It's true. Did you know that you don't need to experience headaches or have vision problems to have IH? That's true, too. Very often, even if doctors are familiar with IH, a patient will fall between the cracks because the myths - oh, the myths - keep many patients from receiving a proper evaluation.
In its "Introduction," the (albeit outdated) book quotes Dr. C. Everett Koop, the former U.S. Surgeon General. He said, "The best prescription is knowledge." I couldn't agree more.
Learn more about IH! You'll be glad you did!
Mon, September 1, 2014 | link
Have Pulsatile Tinnitus? How To Get Your Doctor's Attention and Getting Beyond "Live With It"
Due to the fact that pulsatile tinnitus is a rare symptom, many of the emails I receive from patients go something like this:
"I have pulsatile tinnitus. My ENT thinks it's tinnitus. How do I convince him/her that pulsatile tinnitus is different, that it warrants medical testing, and that a cause may be identified?"
The key, I think, is to refer them to medical reports. If your medical professionals give you a hard time about relying on "Dr Google," remind them that the reports/abstracts listed on Whooshers.com are from medical journals, which include pieces written by their colleagues: medical professionals who are familiar with our cases. If a doctor won't take time to read a medical report to learn more about an area s/he may not be so familiar with, well, I'd want to find another doctor.
We here at Whooshers.com agree 100% that self-diagnosis is not in anyone's best interest and we recommend against it. But just because a medical report is online does not mean it's bogus. In fact, most medical journals now post articles and abstracts electronically, which has been a very positive factor in the recognition of and treatment for rare symptoms, including pulsatile tinnitus.
Whooshers.com has scores of links to medical reports written by doctors, for doctors that explain the difference between tinnitus and pulsatile tinnitus and, more specifically, the medical workup warranted when a pulsatile tinnitus patient walks into a doctor's office. You can find them under "Resources" on the home page and many, many more specific reports about specific causes and treatments on our Cured Whooshers page. The Cured Whooshers page also includes personal stories written by patients, many of whom articulate quite well the impact of the symptom during their journey toward a diagnosis and treatment.
Here is a list of a few resources to get you started, to put in your back pocket before heading to your next doctor's appointment:
1. Click Here to Download the PDF, "Top Ten Pulsatile Tinnitus Tips for Doctors." Review it with your GPs and ENTs!
(An easily printable, two page file of need-to-know information!)
2. Article: "Imaging in Pulsatile Tinnitus: Diagnostic Pearls and Potential Pitfalls," B. S. Purohit, R. Hermans, K. Op de beeck; 1SINGAPORE/SG, 2Leuven/BE, European Society of Radiology, 2014.
(The biggest pitfall of course being that pulsatile tinnitus is often regarded as tinnitus, when it's another kind of symptom, entirely.)
3. Report: "Pulsatile Tinnitus, Imaging and Differential Diagnosis." Erich Hofmann, Prof. Dr. med. Robert Behr, Prof. Dr. med., Tobias Neumann-Haefelin, Prof. Dr. med., and Konrad Schwager, Prof. Dr. med., Dtsch Arztebl Int. Jun 2013; 110(26): 451–458.
(Excellent, to-the-point report. The first sentence: "Pulsatile tinnitus, unlike idiopathic tinnitus, usually has a specific, identifiable cause.")
4. Show doctors the Whooshers.com petition for a pulsatile tinnitus diagnosis code. A number of doctors have signed it!
(That's right. There's no code yet. We need one, and so do the doctors who treat us. Not to mention that, if we had a code, health insurance companies would have less reason to fight our doctors when they order a diagnostic test.)
5. The Whooshers.com Cured Whooshers page.
(Many pulsatile tinnitus stories written by real patients who found answers and treatment. Many medical reports re the same. NO stories on tinnitus.)
PULSATILE TINNITUS IS NOT TINNITUS!
Sun, August 3, 2014 | link
Another Cured Whoosher: Brain Dural Arteriovenous Fistula (BDAVF)
The latest Cured Whoosher story from "Liz" is another inspiring (albeit frustrating!) tale of a patient who was told to "live with it," all while the evasive cause of her pulsatile tinnitus, brain dural arteriovenous fistula (BDAVF), could have caused a stroke, or worse. Her persistence was rewarded by answers and a procedure that cured her of the whoosh. Reading other whoosher stories helped her throughout the process, so she wanted to give back and tell her story so it, too, may help other whooshers.
This will be added to our Cured Whooshers page, where we keep links to similar stories of persistence and varying underlying causes. We actually have several other stories from whooshers diagnosed with BDAVF. Links to medical reports may be found there, too. So, doctors: read up!
Liz, good for you for being your best advocate! Enjoy the silence.
In January 2013, a couple days after a dental cleaning appointment, I started having a severe headache, jaw ache and whooshing in my left ear. It literally sounded like a 'whoosh, whoosh, whoosh' noise which was in time to my heartbeat. It continued 24/7 and kept getting worse. I had been suffering with cold and sinus issues for a couple of weeks, saw my primary physician and got antibiotics. Didn't get better. In February 2013, researching on the Internet brought me to Whooshers.com and that page (and the links) got me started thinking that with my symptoms that it might be pulsatile tinnitus. I read it might be related to high blood pressure, neck pain, Temporomandibular Joint Disorder (TMJ), all kinds of things. I had high blood pressure so I checked it but could find no correlation to the whooshing. My sleep was big time disrupted. Saw my dentist re TMJ. Saw an ENT specialist who said ears were clear but could be TMJ.

From the beginning, I was able to shut the whoosh off by pressing on the back of my head behind my left ear, but then my head would hurt. I had a physical and nothing showed up. I gave up Aleve. I tried heat, ice, neck exercises, relaxation imagery for TMJ, watched my posture, tried white noise to sleep, tried a cotton ball in my ear, limited my chewing of hard stuff, essential oils and tried massage... nothing worked or really helped for long.

In April of 2013, I met with a second ENT specialist who ordered a hearing test which showed no problems with hearing - a good thing but no answer for whooshing. He ordered an MRI to rule out a blood vessel tumor. This ENT had actually heard of pulsatile tinnitus (but not my primary or the first ENT). My MRI showed blood vessels all good but I was sent me to physical therapy for my TMJ which did help a bit in at least managing the neck and jaw pain. Apparently I carry a lot of tension in my neck and jaws.

The more I read on Whooshers.com the more nervous I became. I was then scheduled (per my ENT) for an ultrasound Doppler which also returned clear but found a thyroid nodule. Next up was a MRI/MRA/MRV, and I was hopeful because these were all terms I had read about. Meanwhile the whoosh continued 24/7 and drove me completely bonkers!

During one of my sleepless nights I had read it was possible to record my whoosh and I was able to do that (can't remember how but finally friends and family could hear what I had been hearing). I played the whoosh for the second ENT referral and he said could hear it a little on my recording.

[Listen to Liz's Whoosh on the Whooshers Sounds page]

I kept pushing my primary about further testing of my thyroid nodule because I read that too can cause pulsatile tinnitus... this whole thing was quite a frustrating process to this point. Through this whooshing noise, I kept getting sick with infections, low temperatures, extreme debilitating fatigue, just general feeling like crap all the time.

In January of this year (2014), The ENT found a neurosurgeon for me to talk to about my symptoms. I met him in February.

The neurosurgeon heard my whoosh (bruit) (woohoo), had heard of Whooshers.com, had heard of pulsatile tinnitus and he could actually feel it (trill). He had reviewed all my scans and said he was fairly sure it was a dural arteriovenous fistula but didn't think I needed to repeat all the scans, just do the gold standard test of angiogram. Did I mention when I finally saw the neurosurgeon's card it said "neurointerventionalist!!!! I knew from Whooshers.com that was the doctor that might be able to figure this out and he did!!!!!!! And he had heard the whoosh too...what a relief that was!!!

Backtracking a little, a few weeks prior to my procedure my head had begun to hurt a lot and every little tiny touch made my head hurt worse and worse. I was getting more worried and not sure what the heck was going on but was glad I already had an appointment scheduled.

On April 22, I had my diagnostic angiogram and after 4 plus hours, they were able to find and fix my fistula with an onyx embolization - YAHOO!!!! The neurosurgeons (I had two neurosurgeons work on me) said my situation was a textbook case for BDAVF. I spent the night in the hospital and woke up with NO whoosh!!!! From what I understood they had found a big mess of criss-crossed arteries and veins and blood flow starting to go backwards which was probably why I was feeling worse. If it hadn't been found and fixed it could have possibly led to a brain bleed or stroke.

I am soooo grateful to them and thankful and blessed to have no more whoosh. The relentless24/7 whoosh was rough and 'peace' can not be underestimated. I don't know how everyone can continue longer than I had but it was so helpful to read everyone's stories on here....a little scary to read sometimes but helpful overall :-))) and it was hard for me to do but you just have to keep pushing for answers. I wish nothing but cured whooshers for everyone on here.

Note: It's now almost 3 months after my procedure and I am still whoosh free. I was told I would lose my hair in that left back quadrant of my head and I did. Still waiting for it to grow back lol but that's a minor issue compared to what could have happened. I will have a follow-up angiogram in another 3 months just to make sure everything still okay.
For more information about brain dural arteriovenous fistula, see this link at neuroangio.org.
Sat, July 19, 2014 | link